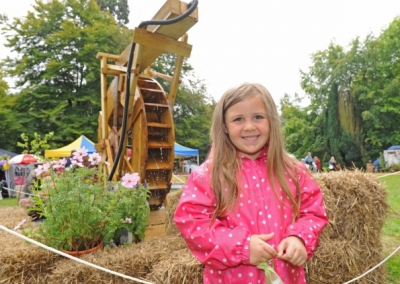 MAKING A SPLASH Eloisa Denton-Ebbage, five, from Havant by the water wheel. (112537-3642)
By Ruth Scammell
Published in the Portsmouth News on Monday 18 July 2011

We all take it for granted – but a festival in Havant has been highlighting the importance of water.
The Staunton Water Festival, now in its ninth year, featured a whole host of events aiming to raise awareness about how to save water.
The event, which lasted all weekend at Staunton Country Park, saw around 5,000 people turn up over the two days, despite the rain.
Lulu Bowerman, organiser of the festival, said: 'It's a hot topic at the moment.
'It's said that water is a liquid asset and it's going to be as valuable as oil, particularly in countries in Africa.
'We need to look after our resources. It's not just a local issue, it's nationwide.
'We need to take better care of something so precious.
'We aren't here to preach. It's just little things like turning your tap off when you are brushing your teeth and not leaving your hose running.
'People need to be aware of what's going on in their own back yard.
'We can't say it doesn't affect us because it's a very small world we live in now.
'We want to make it a fun day. If we try and make it into a green day we wouldn't get as many people coming.
'It's a very good hearty event. We never have any trouble.'
Many local groups and organisations turned up and there was the opportunity to take part in fishing and water walking. There were also representatives from Portsmouth Model boat club, the RNLI and Friends of the Earth.
There were refreshments and live music from local bands throughout the weekend.
Lulu added: 'Because it's free it's become a very good community event.
'Most of the activities are free so it's a great day out for families to come and enjoy things together which is wonderful.
'Everybody has been very British and very jolly.
It's a shame about the weather.
'But it's a water festival so we can't say we don't want to get wet.
'We have weathered the storm.
'Local people have been out and supported us.
'We have been really pleased with the people who have turned up.'
Anita Gray, 31, from Stockheath Road in Leigh Park, added: 'It's wet, but we love coming each year. It's fun.
'Water is a good source and we are really lucky in this country that we have got it.'